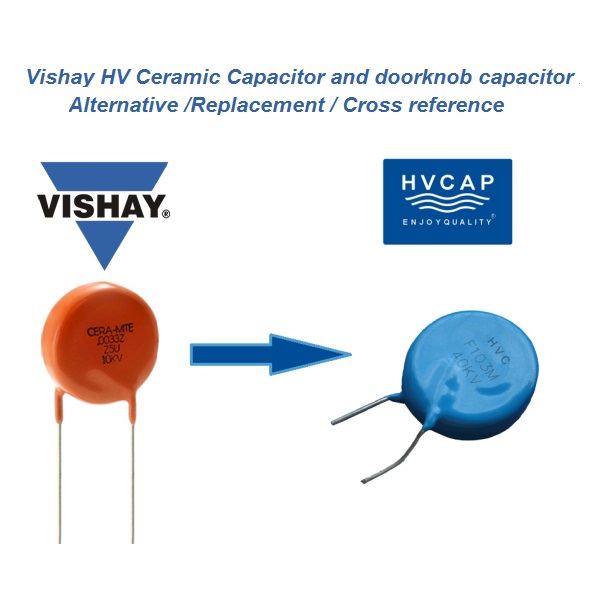 Vishay High Voltage Ceramic Capacitor Alternative Replacement Cross Reference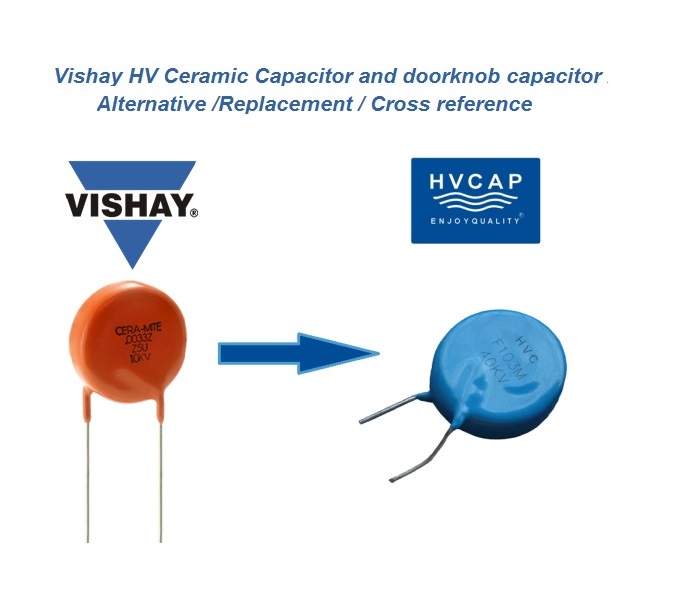 HVC Capacitor today announce lauch special production solution to replace World famous high voltage ceramic capacitor manufacturer -Vishay.
Since mid of 2018, world top brand of high voltage ceramic capacitor Murata quit the market, Vishay become the major option for a lot end customer.
Although Vishay product in quite high standard like Murata, but Vishay with disadvantge like higer cost than Murata and keep long production lead time(10 to 24 weeks).
Making Vishay not a suitable replacement option for Murata HV ceramic capacitor.
Since 2018 to 2019, High voltage ceramic capacitor giant Murata quit the market,competitor include
Vishay have release their new product range to cover this market share.
HVC Capacitor offer same to higher spec to Vishay's new capacitor series.also providing
better cost and short leadtime and purchasing availability. All of this make HVC Capacitor be a
more attractive option while customer doing Murata replacement. And HVC do approval by lot fortune 500 companies.
1)Vishay High Frequency low capacitance N750 series, prefix from "IEL"
This is target to Murata's SL class capacitor(like 20KV 22PF SL), but offer a higher voltage level than original Murata model.
HVC Capacitor may use UJ or SL class dielectric as replacement.And HVC max now available model up to "50kv 22pf SL"
IEL120MBQDJ0KR 25KV 12PF U2J
IEL150MBQDJ0KR 25KV 15PF U2J
IEL360MBQDJ0KR 25KV 36PF U2J
2)Vishay's new HVCC series higher capacitance series ,2NF.
Normally for Medical X-ray and NDT, bagger X-ray scanner market. Customer always using Murata's 15KV 1000PF N4700,
Vishay use Y6P (class II) ceramic dielectric to produce higher capacitance to 2000pf. aim to help lower down customer's component quantity and cost down.
But Y6P still belongs to Class II capacitor and with quite higher dissipation factor 1.5% ,but tradtional high end X-ray application using N4700 class I ceramic dielectric and Insulation resistance
in 200 000 MOhm and D.F only <=0.2% , We believe Vishay's Y6P range performance only compatible to Murata's B(Y5P) class,use in medium to low class Xray application, but not able to replace N4700 class.
Vishay HVCC series capacitors offer guaranteed load life performance of 1000 h at 125 % rated voltage and +105 °C,and HVC Capacitor also pass 1800 hours at 100% rated voltage.
HVC Capacitor have invent 15KV 2000PF in N4700 material. and already getting approval from famous Korean Medical X-ray customer. who also consider Vishay's HVCC153Y6P202MEAX,but finally adopt HVC's HVC-15KV-DL26-F12.5-202M
HVC Capacitor may using N4700 class ceramic dielectric to produce same or higher performance than Vishay' HVCC series, and with better cost and short lead time to only 3 weeks.
HVCC103Y6P101MEAX 10KV 100PF Y6P
HVCC103Y6P151MEAX 10KV 150PF Y6P
HVCC103Y6P221MEAX 10KV 220PF Y6P
HVCC103Y6P331MEAX 10KV 330PF Y6P
HVCC103Y6P471MEAX 10KV 470PF Y6P
HVCC103Y6P681MEAX 10KV 680PF Y6P
HVCC103Y6P102MEAX 10KV 1000PF Y6P
HVCC103Y6P152MEAX 10KV 1500PF Y6P
HVCC103Y6P202MEAX 10KV 2000PF Y6P
HVCC153Y6P101MEAX 15KV 100PF Y6P
HVCC153Y6P151MEAX 15KV 150PF Y6P
HVCC153Y6P221MEAX 15KV 220PF Y6P
HVCC153Y6P331MEAX 15KV 330PF Y6P
HVCC153Y6P471MEAX 15KV 470PF Y6P
HVCC153Y6P681MEAX 15KV 680PF Y6P
HVCC153Y6P102MEAX 15KV 1000PF Y6P
HVCC153Y6P152MEAX 15KV 1500PF Y6P
HVCC153Y6P202MEAX 15KV 2000PF Y6P
HVCC203Y6P101MEAX 20KV 100PF Y6P
HVCC203Y6P151MEAX 20KV 150PF Y6P
HVCC203Y6P221MEAX 20KV 220PF Y6P
HVCC203Y6P331MEAX 20KV 330PF Y6P
HVCC203Y6P471MEAX 20KV 470PF Y6P
HVCC203Y6P681MEAX 20KV 330PF Y6P
HVCC203Y6P102MEAX 20KV 330PF Y6P
3) 615R Series is old series orange color high voltage ceramic disc capacitor used in many medical X ray brands like PHILIPS.
This series marking rated voltage in 10kv and 15kv DC, but actually withstand voltage able up to 30kv and 40kv. also T3M(N4700) class material able to provide capacitor with superior performance in high frequency condition.
The major disadvante is 615R series with very high cost and long lead time.
HVC Capacitor may use N4700 class dielectric and offer the same level withstand voltage, already with successful case in East Europe projects like in Czech Republic
and Poland market. who before using Vishay's orange capacitor.
615R100GATT25 10kv 250PF N4700
615R100GATT50 10kv 500PF N4700
615R100GATT68 10KV 680PF N4700
615R100GATT82 10KV 820PF N4700
615R100GAST10 10KV 100PF Y5R
615R100GAST25 10KV 250PF Y5R
615R100GAST50 10KV 500PF Y5R
615R100GAD10 10KV 1000PF Y5R
615R100GASD10 10KV 1000PF Y5U
615R100GATD25 10KV 2500PF Y5U
615R100GAD25 10KV 2500PF Z5U
615R100GAD33 10KV 3300PF Z5U
615R100GAD47 10KV 4700PF Z5U
615R150GATT10 15KV 100PF N4700
615R150GATT25 15KV 250PF N4700
615R150GATT39 15KV 390PF N4700
615R150GATT50 15KV 500PF N4700
615R150GATT75 15KV 750PF N4700
615R150GAST10 15KV 100PF Y5R
615R150GAST25 15KV 250PF Y5R
615R150GAT50 15KV 500PF Y5R
615R150GATD10 15KV 1000PF Y5R
615R150GAST50 15KV 500PF Y5U
615R150GAD10 15KV 1000PF Y5U
615R150GAD22 15KV 2200PF Z5U
615R150GAD25 15KV 2500PF Z5U
4)Vishay's another new range prefix with "HF",include
HFU HFZ HFE series.
aim to replace Murata's same 6KV medium range product. Normally 6kv capacitor use in telecommunication may need several thousand Kpcs for just one key client.
This is price senstive market, we see Vishay use Y5T and Y5U class , material code 2E3,this is also popular amoung Chinese manufacturer.
HVC Capacitor also able to offer same UJ/Y5U/Y5T class mateiral.and same better materaial and cost and also lead time.
HFU100KBFED0KR 6KV 10PF N750
HFU150KBFED0KR 6KV 15PF N750
HFU220KBFEF0KR 6KV 22PF N750
HFU330KBFEF0KR 6KV 33PF N750
HFU470KBFEF0KR 6KV 47PF N750
HFU680KBFEF0KR 6KV 68PF N750
HFU820KBFEF0KR 6KV 82PF N750
HFU101KBFEF0KR 6KV 100PF N750
HFU151KBFEF0KR 6KV 150PF N750
HFU221KBFEF0KR 6KV 220PF N750
HFU331KBFEF0KR 6KV 330PF N750
HFZ101MBFDF0KR 6KV 100PF Y5T
HFZ102KBFEF0KR 6KV 1000PF Y5T
HFZ121MBFEF0KR 6KV 120PF Y5T
HFZ122MBFEJ0KR 6KV 1200PF Y5T
HFZ151KBFEF0KR 6KV 150PF Y5T
HFZ152MBFDJ0KR 6KV 1500PF Y5T
HFZ182MBFEJ0KR 6KV 1800PF Y5T
HFZ221MBFEF0KR 6KV 220PF Y5T
HFZ222MBFEJ0KR 6KV 2200PF Y5T
HFZ271KBFEF0KR 6KV 270PF Y5T
HFZ272MBFEJGKR 6KV 2700PF Y5T
HFZ331KBFEF0KR 6KV 330PF Y5T
HFZ391KBFEF0KR 6KV 390PF Y5T
HFZ471KBFEF0KR 6KV 470PF Y5T
HFZ560MBFED0KR 6KV 560PF Y5T
HFZ681MBFEF0KR 6KV 680PF Y5T
HFE102MBFEF0KR 6KV 1000PF Y5U
HFE221MBFEF0KR 6KV 220PF Y5U
HFE222MBFEF0KR 6KV 2200PF Y5U
HFE331MBFEF0KR 6KV 330PF Y5U
HFE332MBFEH0KR 6KV 3300PF Y5U
HFE471MBFEF0KR 6KV 470PF Y5U
HFE472MBFEJ0KR 6KV 4700PF Y5U
HFE681MBFEF0KR 6KV 680PF Y5U
HFE682MBFEJ0KR 6KV 6800PF Y5U
Following unique advantage making HVC as good alternative to Vishay and Murata.
1. HVC is strong in N4700 class ceramic dielectric, which is commonly-used in application required high voltage withstand, low dissipation, high frequency performance. Murata use "ZM" type (JIS standard) and Vishay marking is "T3M" same to N4700 class. HVC also have own patent of his own version of N4700 ceramic dielectric.
2. HVC usually provide technical consultant and even circuit diagram analysis ensure right component selection, which required strong electronic component knowledge and application experience. Right component selection is critical for project success. This also call "design-in" service.
3. HVC offer high percentage of custom production according to customer's PCB space, custom product diameter, lead spacing and other detail.
4. In most of case, using HVC as replacement means cost down and also shorten production lead time. low voltage model 1kv to 6kv lead time in 3 to 5 days, common model 10kv to 30kv in 2 weeks, custom production in 3 weeks, doorknob type common model in 4 weeks, custom spec doorknob model in 6 to 8 weeks.
5.HVC Capacitor has established an international sales network, with authority distributors in Germany, France, UK, USA, Italy, Russia, India, Korea, Japan, Malaysia, Singapore. Local distributors offering logistic, stock buffering, customer local caring, business visiting, payment credit and other value added services. customer can buy HVC's component just like buying from domestic.
6. HVC assist customer for new project development or product upgrade, which always means higher voltage and higher frequency capacitors requirement.
Hot Item:
Browse Other Products