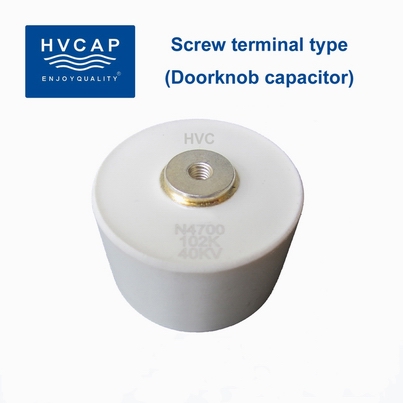 USAGE:
Mainly used in high peak current and high repetition rate circuit.Such as:
high voltage doubler, voltage protection,decoupling circuits,laser generator,
switching circuits, welding equipment, exchange limit, DC storage
high frequency coupling, AC and DC filtering applications.
FEATURES:
• Low dissipation factor of 0.1 % at 20kHz to 1000kHz
• N4700 (T3M) Class 1, strontium-based ceramic dielectric
• Negligible piezoelectric/electrostrictive effect
•Screw terminal mounting
DIELECTRIC STRENGTH:
150 % of rated voltage in oil, charging current limited to 5mA
DISSIPATION FACTOR tan δ:
N4700: ≤ 1 x 10-3 (1 kHz)
INSULATION RESISTANCE:
Min. 200 000 MΩ at 25 °C
CORONA LIMIT:
< 5 pC at rated AC voltage
OPERATING TEMPERATURE RANGE:
- 30 °C to + 85 °C : N4700,Y5S,Y5T,Y5U,Y5V
- 30 °C to + 125 °C : X7R
APPLICATIONS:
• High voltage power supplies
• CO2 lasers
• X-ray equipment
• Welding equipment
• Medical industrial equipment
CAPACITANCE RANGE:
140 pF to 15000 pF
RATED VOLTAGE:
• 10 000 VDC (4000 VRMS)
• 15 000 VDC (6000 VRMS)
• 20 000 VDC (8000 VRMS)
• 30 000 VDC (10 000 VRMS)
• 40 000 VDC (13 000 VRMS)
CERAMIC DIELECTRIC:
N4700 (Class 1)
MATERIAL:
Capacitor elements made from Class 1 ceramic in a molded epoxy case.
Screw terminals: brass, silver plated.
POWER DISSIPATION:
Limit to 25 °C rise above ambient, measured on case
CAPACITANCE TOLERANCES:
± 10 % , ± 20 %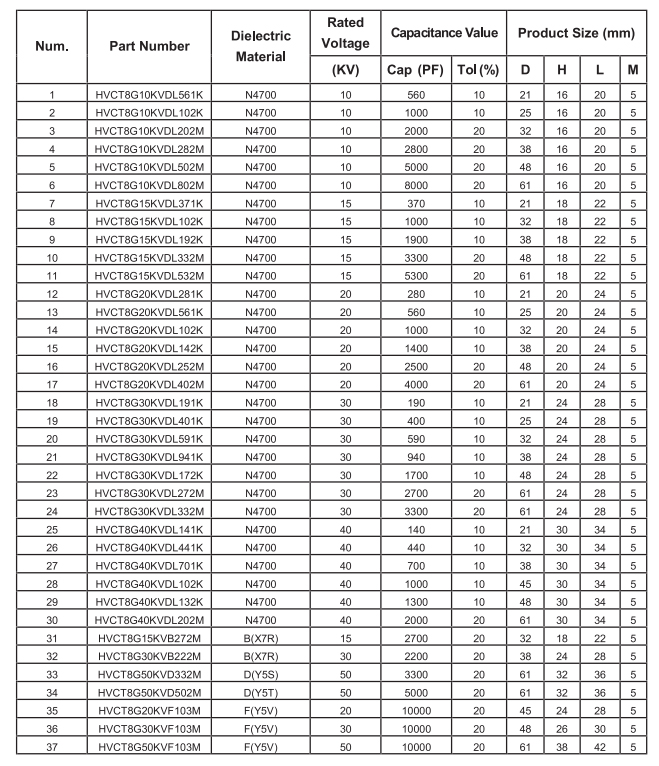 DOWNLOAD GENERAL DATASHEET:DOOR KNOB STYLE 2p.PDF
From Feb 2018, HVC Start offering higher spec doorknob capacitor from 60KVdc to 150KVdc, new available item please inquiry sales@hv-caps.com, following cross reference of HVC dooknob capacitor to other brands.



Alternative Replacement Cross Reference of High Voltage Doorknob Capacitor from Vishay, Murata, TDK, AVX, HVCA
High Voltage Ceramic Capacitor Screw Terminal Type, also called "High Voltage Doorknob Capacitor", is an industry grade electronic component.The well known brands are American company Vishay, AVX, HVCA and Japanese player Murata and TDK. These type of ceramic capacitors wildly use in X-ray generator, digital radiography, non destructive testing, laser and plasma equipment, Tesla Coil, Marx generator and many more. Since the entire high voltage machine market is decline. Major player gradually quit this market and leading doorknob capacitor "hard to find" item. End customer seeking for replacement solution for continue their existing running project and need technical support for new product development.


Murata is first company to release EOL notice for HV doorknob capacitor (DHS series, white color)In mid 2018.AVX also announce will not any more in position of production of doorknob capacitor (HP/HW/HD/HE series, use red color epoxy resin) in October 2018. Vishay and TDK is the only two major brand still in production, but lead time always keeping up to 18 weeks and more, and seldom to accept custom specification production order.Due to high cost they are not economic option for mass production especially in BRICS countries like Brazil, Russia, India, which in need of economic and reliable doorknob capacitor to produce various model high power Medical X-ray machine and airport inspection machine. HVCA brand also call Dean Technology CKE from U.S.A, this brand seems just OEM item. Their product can be found from their own HV distribution channel.

HVC Capacitor from Southern China, is professional manufacturer of high voltage doorknob capacitor, with nearlly 10 years experience as alternative and replacement solution to above mention American and Japanese brand capacitor. HVC already earning good fame by close cooperation with lots Fortune 500 company like GE, PHILIPS, NIKON, KONICA Minolta and many more.

HVC brand High voltage doorknob capacitor also have following unique advantage:

1).HVC Capacitor is only manufacturer in mass production of 100kv and 150kv doorknob capacitor. While "well known" brand only present up to 50kv.

2).HVC Capacitor control with whole production process, from powder making, ceramic disc, to soldering assembly, and finally epoxy encapsulation. The "well known" brand always announce they are hardly to purchase the raw material, which is rare-earth element and strictly controlled by major develop country. Outsource raw material cause well known brand in higher product cost and result in long production lead time.

3).HVC Capacitor open to custom production, available wide range spec from 10kv to 150kv, capacitance from 100pf to 15000pf. low custom production MOQ, which is essential for new project development.Following listing full spec for HVC Capacitor as alternative replacement and cross reference to Vishay, TDK, Murata, AVX, HVCA:
Rated Voltage

Dielectric Material

HVC equipvient Part Number

Murata,Vishay,AVX,TDK,HVCA Part Number

Capacitance

10KV 560PF

N4700

HVCT8G-10KV-DL30-561K

DHS4E4A561KC2B,
JX5T3M561K10KV,
NX5T3M561K10KV,
DHS4E4A561MCXB

10KV 1000PF

N4700

HVCT8G-10KV-DL30-102K

FD-12AU,
715C10KTD10

10KV 1200PF

N4700

HVCT8G-10KV-DL30-122K

DHS4E4A122KH2B,
NX5T3M122K10KV,
JX5T3M122K10KV,
DHS4E4A122MHXB

10KV 2200PF

N4700

HVCT8G-10KV-DL38-222K

715C10KTD22

10KV 2800PF

N4700

HVCT8G-10KV-DL38-282K

DHS4E4A282KL2B,
JX5T3M282K10KV,
NX5T3M282K10KV,
DHS4E4A282MLXB

10KV 3200PF

HVCT8G-10KV-E323M

715CPP103DK322Z

10KV 4700PF

HVCT8G-10KV-E472M

715C10KTD47

10KV 5000PF

N4700

HVCT8G-10KV-DL38-502K

DHS4E4A502KR2B,
NX5T3M502K10KV,
JX5T3M502K10KV,
DHS4E4A502MRXB,
715C10KTD50

10KV 5600PF

HVCT8G-10KV-E562M

715C10KTT56

10KV 8000PF

N4700

Enquiry sales@hv-caps.com

DHS4E4A802KT2B,
715C10KTD80,
JX5T3M802K10KV,
NX5T3M802K10KV

10KV 10000PF

Enquiry sales@hv-caps.com

715C10DKS10

10KV 20000PF

Enquiry sales@hv-caps.com

715C10DKS20

15KV 250PF

Enquiry sales@hv-caps.com

NX5Y5P251K15KV,
JX5Y5P251K15KV

15KV 290PF

Enquiry sales@hv-caps.com

15KV 370PF

N4700

Enquiry sales@hv-caps.com

DHS4E4C371KC2B,
NX5T3M371K15KV,
JX5T3M371K15KV,
DHS4E4C371MCXB

15KV 500PF

Enquiry sales@hv-caps.com

HD300X0501M,
JX5Y5P501K15KV,
NX5Y5P501K15KV

15KV 560PF

N4700

Enquiry sales@hv-caps.com

HP30EX0561M

15KV 750PF

N4700

Enquiry sales@hv-caps.com

HP30EX0751M

15KV 1000PF

N4700

Enquiry sales@hv-caps.com

715C15KTD10,
NX5Y5P102K15KV,
JX5Y5P102K15KV,
HP30EX0102M

15KV 1200PF

Enquiry sales@hv-caps.com

15KV 1100PF

N4700

Enquiry sales@hv-caps.com

DHS4E4C112KH2B,
JX5T3M112K15KV,
NX5T3M112K15KV,
DHS4E4C112MHXB

15KV 1500PF

Y5U

Enquiry sales@hv-caps.com

715C15DKD15,
HP40EX0152M

15KV 1800PF

N4700

Enquiry sales@hv-caps.com

HP40EX0182M

15KV 1900PF

N4700

Enquiry sales@hv-caps.com

DHS4E4C192KL2B,
NX5T3M192K15KV,
JX5T3M192K15KV,
DHS4E4C192MLXB

15KV 2000PF

Y5U

Enquiry sales@hv-caps.com

715C15DKD20,
HP40EX0202M

15KV 2200PF

N4700

Enquiry sales@hv-caps.com

15KV 2500PF

N4700

Enquiry sales@hv-caps.com

HP50EX0252M

15KV 2700PF

N4700

Enquiry sales@hv-caps.com

HP50EX0272M

15KV 3000PF

N4700

Enquiry sales@hv-caps.com

15KV 3200PF

Enquiry sales@hv-caps.com

715C15DKD32

15KV 3300PF

Y5U

Enquiry sales@hv-caps.com

715C15DKD33,
715C15KTD33

15KV 3400PF

N4700

Enquiry sales@hv-caps.com

DHS4E4C342MRXB,
JX5T3M342K15KV,
NX5T3M342K15KV,
DHS4E4C342KR2B

15KV 3700PF

N4700

Enquiry sales@hv-caps.com

HP60EX0372M

15KV 4000PF

N4700

Enquiry sales@hv-caps.com

HP60EX0402M

15KV 4700PF

Y5U

Enquiry sales@hv-caps.com

715C15DKD47

15KV 5000PF

Y5U

Enquiry sales@hv-caps.com

HP60EX0502M

15KV 5300PF

N4700

Enquiry sales@hv-caps.com

DHS4E4C532KT2B,
NX5T3M532K15KV,
JX5T3M532K15KV,
DHS4E4C532MTXB,
715C15KTD53

15KV 5600PF

N4700

Enquiry sales@hv-caps.com

HP60EX0562M

15KV 7000PF

Enquiry sales@hv-caps.com

FHV-153AN

15KV 10000PF

Y5U

Enquiry sales@hv-caps.com

715C15DKS10

20KV 200PF

Enquiry sales@hv-caps.com

UHV-221A,
JX5Y5P251K20KV,
NX5Y5P251K20KV

20KV 280PF

N4700

Enquiry sales@hv-caps.com

DHS4E4D281KC2B,
JX5T3M281K20KV,
NX5T3M281K20KV,
DHS4E4D281MCXB

20kv 400pf

Enquiry sales@hv-caps.com

UHV-222A

20KV 500PF

Y5U

Enquiry sales@hv-caps.com

715C20DKT50,
NX5Y5P501K20KV,
JX5Y5P501K20KV,
HP30EY0501M,
715CPP203BM501Z

20KV 560PF

N4700

Enquiry sales@hv-caps.com

715C20KTT56,
HP30EY0561M

20KV 600PF

N4700

Enquiry sales@hv-caps.com

DHSF44D601ZD2B,
DHSF44D601ZDXB,
715CPP203BM601Z

20KV 700PF

Enquiry sales@hv-caps.com

UHV-223A

20KV 750PF

N4700

Enquiry sales@hv-caps.com

HP30EY0751M

20KV 880PF

N4700

Enquiry sales@hv-caps.com

DHSF44D601ZD2B,
NX5T3M881K20KV,
JX5T3M881K20KV,
DHSF44D601ZDXB

20KV 1000PF

N4700

Enquiry sales@hv-caps.com

DHSF44D102ZH2B,
JX5Y5P102K20KV,
NX5Y5P102K20KV,
DHSF44D102ZHXB,
UHV-224A

20KV 1000PF

Y5U

Enquiry sales@hv-caps.com

715C20DKD10,
HP40EY0102M,
715C20KTD10

20KV 1300PF

Y5U

Enquiry sales@hv-caps.com

715C20DKD13,
HP40EY0132M

20KV 1400PF

N4700

Enquiry sales@hv-caps.com

DHS4E4D142KL2B,
JX5T3M142K20KV,
NX5T3M142K20KV,
DHS4E4D142MLXB,
715C20KTD14 ,
UHV-1A

20KV 1500PF

N4700

Enquiry sales@hv-caps.com

HP40EY0152M

20KV 1700PF

Enquiry sales@hv-caps.com

FHV-1AN

20KV 2000PF

N4700

Enquiry sales@hv-caps.com

HP50EY0202M

20KV 2200PF

N4700

Enquiry sales@hv-caps.com

HP50EY0222M

20KV 2400PF

N4700

Enquiry sales@hv-caps.com

DHSF44D242ZN2B,
DHSF44D242ZNXB

20KV 2500PF

N4700

Enquiry sales@hv-caps.com

DHS4E4D252KR2B,
NX5T3M252K20KV,
JX5T3M252K20KV,
DHS4E4D252MRXB

20KV 2500PF

Y5U

Enquiry sales@hv-caps.com

715C20DKD25,
JX5T3M252K20KV,
NX5T3M252K20KV,
HP50EY0252M, UHV-2A

20KV 2800PF

715C20KTT28

20KV 3000PF

N4700

Enquiry sales@hv-caps.com

HP60EY0302M,FHV-2AN

20KV 3300PF

Z5V

Enquiry sales@hv-caps.com

DHSF44D332ZR2B,
DHSF44D332ZRXB

20KV 3300PF

Y5U

Enquiry sales@hv-caps.com

715C20DKD33,
HP60EY0332M

20KV 3700PF

N4700

Enquiry sales@hv-caps.com

HP60EY0372M

20KV 4000PF

N4700

Enquiry sales@hv-caps.com

DHS4E4D402KT2B
/DHS4E4D402MTXB

Enquiry sales@hv-caps.com

UHV-3A,NX5T3M402K20KV,
JX5T3M402K20KV,
HP60EY0402M,
715C20KTD40,
HW60EY0402M

20KV 4700PF

Y5U

Enquiry sales@hv-caps.com

715C20DKD47

20KV 4800PF

N4700

Enquiry sales@hv-caps.com

DHSF44D482ZT2B,
DHSF44D482ZTXB

20KV 5200PF

Enquiry sales@hv-caps.com

FHV-3AN

20KV 5600PF

Enquiry sales@hv-caps.com

715C20KTT56

20KV 6800PF

Y5U

Enquiry sales@hv-caps.com

715C20DKD68

20KV 10000PF

Y5T

Enquiry sales@hv-caps.com

20KV 30000PF

Y5V

Enquiry sales@hv-caps.com

30KV 190PF

N4700

Enquiry sales@hv-caps.com

DHS4E4F191KC2B,
JX5T3M191K30KV,
NX5T3M191K30KV,
DHS4E4F191MCXB

30KV 200PF

Enquiry sales@hv-caps.com

UHV-231A

30KV 260PF

Enquiry sales@hv-caps.com

715CBP303AN261Z,
NX5Y5P251K30KV,
JX5Y5P102K20KV

30KV 400PF

N4700

Enquiry sales@hv-caps.com

715C30KTT40,UHV-232A

30KV 460PF

N4700

Enquiry sales@hv-caps.com

DHSF44F461ZD2B,
DHSF44F461ZDXB,
715CPP303BN461Z

30KV 500PF

Y5U

Enquiry sales@hv-caps.com

715C30DKT50

30KV 560PF

N4700

Enquiry sales@hv-caps.com

HP30E30561M

30KV 580PF

Enquiry sales@hv-caps.com

715CY5PPB303BN581M

30KV 590PF

Z5V

Enquiry sales@hv-caps.com

DHS4E4F591KH2B,
NX5T3M591K30KV,
JX5T3M591K30KV,
DHS4E4F591MHXB

30KV 700PF

Enquiry sales@hv-caps.com

UHV-233A

30KV 780PF

N4700

Enquiry sales@hv-caps.com

DHSF44F781ZH2B,
DHSF44F781ZHXB

30KV 820PF

N4700

Enquiry sales@hv-caps.com

HP40E30821M

30KV 940PF

N4700

Enquiry sales@hv-caps.com

DHS4E4F941KL2B,
JX5T3M941K30KV,
NX5T3M941K30KV,
DHS4E4F941MLXB,
UHV-4A

30KV 1000PF

N4700

Enquiry sales@hv-caps.com

715C30DKD10,
HP40E30102M

30KV 1120PF

N4700

Enquiry sales@hv-caps.com

HP40E31121M

30KV 1200PF

Enquiry sales@hv-caps.com

FHV-4AN

30KV 1500PF

N4700

Enquiry sales@hv-caps.com

HP50E30152M

30KV 1700PF

N4700

Enquiry sales@hv-caps.com

DHS4E4F172KR2B,
JX5T3M172K30KV,
NX5T3M172K30KV,
DHS4E4F172MRXB,
HP50E30172M,UHV-5A

30KV 1800PF

Z5V

Enquiry sales@hv-caps.com

DHSF44F182ZN2B,
DHSF44F182ZNXB

30KV 2000PF

N4700

Enquiry sales@hv-caps.com

HP50E30202M

30KV 2100PF

Enquiry sales@hv-caps.com

FHV-5AN

30KV 2200PF

N4700

Enquiry sales@hv-caps.com

30KV 2500PF

Z5V

Enquiry sales@hv-caps.com

DHSF44F252ZR2B,
DHSF44F252ZRXB,
715C30DKD25

30KV 2500PF

Z5V

Enquiry sales@hv-caps.com

715C30DKD25

30KV 2700PF

N4700

Enquiry sales@hv-caps.com

DHS4E4F272KT2B,
715C30KTD27,
NX5T3M272K30KV,
JX5T3M272K30KV,
DHS4E4F272MTXB,
UHV-6A,HP60E30272M

30KV 3000PF

N4700

Enquiry sales@hv-caps.com

HP60E30302M

30KV 3300PF

Y5U

Enquiry sales@hv-caps.com

715C30DKD33,
HP60E30332M

30KV 3500PF

Enquiry sales@hv-caps.com

FHV-6AN

30KV 3600PF

N4700

Enquiry sales@hv-caps.com

DHSF44F362ZT2B,
DHSF44F362ZTXB

30KV 3700PF

Enquiry sales@hv-caps.com

30KV 4000PF

Enquiry sales@hv-caps.com

715C30KTT40

30KV 4700PF

Y5U

Enquiry sales@hv-caps.com

715C30DKD47

30KV 5300PF

Y5S

Enquiry sales@hv-caps.com

30KV 5900PF

Enquiry sales@hv-caps.com

715C30KTT59

30KV 10000PF

Enquiry sales@hv-caps.com

30KV 9400PF

Enquiry sales@hv-caps.com

715C30KTT94

30KV 20000PF

Y5V

Enquiry sales@hv-caps.com

40KV 100PF

N4700

Enquiry sales@hv-caps.com

UHV-241A

40KV 140PF

N4700

Enquiry sales@hv-caps.com

DHS4E4G141KC2B,
JX5T3M141K40KV,
NX5T3M141K40KV,
DHS4E4G141MCXB

40KV 150PF

N4700

Enquiry sales@hv-caps.com

40KV 180PF

Enquiry sales@hv-caps.com

715CBP403AP181Z

40KV 200PF

N4700

Enquiry sales@hv-caps.com

UHV-242A,
JX5Y5P251K40KV,
NX5Y5P251K40KV

40KV 300PF

Y5U

Enquiry sales@hv-caps.com

715C40DKT30

40KV 390PF

N4700

Enquiry sales@hv-caps.com

HP30E40391M

40KV 340PF

Z5V

Enquiry sales@hv-caps.com

DHSF44G341ZD2B,
DHSF44G341ZDXB,
715CPP403BP341Z

40KV 400PF

N4700

Enquiry sales@hv-caps.com

UHV-243A

40KV 440PF

N4700

Enquiry sales@hv-caps.com

DHS4E4G441KH2B,
NX5T3M441K40KV,
JX5T3M441K40KV,
DHS4E4G441MHXB

40KV 500PF

N4700

Enquiry sales@hv-caps.com

715C40DKT50,
NX5Y5P501K40KV,
JX5Y5P501K40KV

40KV 570PF

Z5V

Enquiry sales@hv-caps.com

DHSF44G571ZH2B,
DHSF44G571ZHXB

40KV 560PF

Enquiry sales@hv-caps.com

40KV 700PF

N4700

Enquiry sales@hv-caps.com

DHS4E4G701KL2B,
JX5T3M701K40KV,
NX5T3M701K40KV,
DHS4E4G701MLXB,
UHV-7A

40KV 750PF

N4700

Enquiry sales@hv-caps.com

HP40E40751M

40KV 780PF

Y5U

Enquiry sales@hv-caps.com

715C40DKT78

40KV 840PF

Enquiry sales@hv-caps.com

40KV 850PF

Enquiry sales@hv-caps.com

FHV-7AN

40KV 920PF

Enquiry sales@hv-caps.com

DHSF44G921ZLXB

40KV 1000PF

N4700

Enquiry sales@hv-caps.com

715C40DKD10,
715C40KTD10,
HP50E40102M

40KV 1000PF

N4700

Enquiry sales@hv-caps.com

40KV 1200PF

Enquiry sales@hv-caps.com

40KV 1300PF

N4700

Enquiry sales@hv-caps.com

DHS4E4G132KR2B,
DHSF44G132ZN2B,
NX5T3M132K40KV,
JX5T3M132K40KV,
DHS4E4G132MRXB,
UHV-8A,715C40KTD13

40KV 1400PF

N4700

Enquiry sales@hv-caps.com

HP50E40142M,
715C40KTT14

40KV 1500PF

Enquiry sales@hv-caps.com

FHV-8AN

40KV 1600PF

Y5U

Enquiry sales@hv-caps.com

715C40DKD16

40KV 1700PF

N4700

Enquiry sales@hv-caps.com

HP60E40172M

40KV 1900PF

N4700

Enquiry sales@hv-caps.com

DHSF44G192ZR2B,
DHSF44G192ZRXB

40KV 2000PF

N4700

Enquiry sales@hv-caps.com

DHS4E4G202KT2B,
JX5T3M202K40KV,
NX5T3M202K40KV,
DHS4E4G202MTXB,
HP60E40202M,UHV-9A

40KV 2200PF

N4700

Enquiry sales@hv-caps.com

40KV 2200PF

N4700

Enquiry sales@hv-caps.com

40KV 2400PF

N4700

Enquiry sales@hv-caps.com

HP60E40242M

40KV 2500PF

Y5U

Enquiry sales@hv-caps.com

715C40DKD25

40KV 2700PF

N4700

Enquiry sales@hv-caps.com

DHSF44G272ZT2B,
DHSF44G272ZTXB

40KV 3300PF

Y5S

Enquiry sales@hv-caps.com

715C40DKD33

40KV 4400PF

Enquiry sales@hv-caps.com

715C40KTT44

40KV 5000PF

Y5T

Enquiry sales@hv-caps.com

40KV 6000PF

Enquiry sales@hv-caps.com

40KV 6800PF

Enquiry sales@hv-caps.com

40KV 7000PF

Enquiry sales@hv-caps.com

715C40KTT70

40KV 8000PF

Enquiry sales@hv-caps.com

40KV 10000PF

Y5U

Enquiry sales@hv-caps.com

40KV 15000PF

Y5V

Enquiry sales@hv-caps.com

50KV 100PF

Enquiry sales@hv-caps.com

UHV-251A,
NX5T3M101K50KV,
JX5T3M101K50KV

50KV 200PF

N4700

Enquiry sales@hv-caps.com

715C50KTT20M4,
JX5T3M201K50KV,
NX5T3M201K50KV,
UHV-252A

50KV 280PF

N4700

Enquiry sales@hv-caps.com

HP30E50281M,
JX5Y5P251K50KV,
NX5Y5P251K50KV

50KV 400PF

N4700

Enquiry sales@hv-caps.com

UHV-253A,
NX5T3M401K50KV,
JX5T3M401K50KV

50KV 410PF

N4700

Enquiry sales@hv-caps.com

HP40E50411M

50KV 500PF

N4700

Enquiry sales@hv-caps.com

HP40E50501M,
NX5Y5P501K50KV,
JX5Y5P501K50KV

50KV 560PF

N4700

Enquiry sales@hv-caps.com

715C50KTT56M5,
JX5T3M561K50KV,
NX5T3M561K50KV,
HP40E50561M,
UHV-10A

50KV 700PF

N4700

Enquiry sales@hv-caps.com

715C50KTT70M5,
FHV-10AN

50KV 750PF

N4700

Enquiry sales@hv-caps.com

HP50E50751M

50KV 850PF

N4700

Enquiry sales@hv-caps.com

HP50E50851M

50KV 910PF

N4700

Enquiry sales@hv-caps.com

50KV 1000PF

N4700

Enquiry sales@hv-caps.com

715C50KTD10M5,
NX5T3M112K50KV,
JX5T3M112K50KV,
HP50E50102M,UHV-11A

50KV 1300PF

N4700

Enquiry sales@hv-caps.com

715C50KTD13M5,
FHV-11AN

50KV 1350PF

N4700

Enquiry sales@hv-caps.com

HP60E51351M

50KV 1500PF

N4700

Enquiry sales@hv-caps.com

HP60E50152M

50KV 1650PF

N4700

Enquiry sales@hv-caps.com

HP60E51651M

50KV 1700PF

Enquiry sales@hv-caps.com

UHV-12A,
JX5T3M172K50KV,
NX5T3M172K50KV,
715C50KTD17M5

50KV 1950PF

50KV 2100PF

N4700

Enquiry sales@hv-caps.com

FHV-12AN

50KV 2300PF

N4700

Enquiry sales@hv-caps.com

50KV 2500PF

N4700

50KV 2700PF

N4700

50KV 3700PF

N4700

50KV 5000PF

N4700

50KV 6000PF

N4700

50KV 8000PF

N4700

60KV 195PF

N4700

60KV 375PF

N4700

60KV 500PF

N4700

60KV 650PF

N4700

60KV 700PF

N4700

60KV 850PF

N4700

60KV 1000PF

N4700

60KV 1200PF

N4700

60KV 1400PF

N4700

70KV 10000PF

Y5U

Enquiry sales@hv-caps.com

80KV 5000PF

Y5T

Enquiry sales@hv-caps.com

100KV 500PF

N4700

Enquiry sales@hv-caps.com

HP50E90501M

100KV 675PF

N4700

Enquiry sales@hv-caps.com

HP60E96750M

100KV 700PF

N4700

Enquiry sales@hv-caps.com

100KV 750PF

N4700

Enquiry sales@hv-caps.com

HP60E90751M

100KV 825PF

N4700

Enquiry sales@hv-caps.com

HP60E98250M

100KV 1000PF

Y5S

Enquiry sales@hv-caps.com

100KV 2000PF

Y5T

Enquiry sales@hv-caps.com

100KV 3000PF

Y5T

Enquiry sales@hv-caps.com

120KV 10000PF

Enquiry sales@hv-caps.com

Testing Voltage in 150KV

150KV 800PF

N4700

Enquiry sales@hv-caps.com

Testing Voltage in 150KV

Rated Voltage KVac

10Kvac 100PF

WL (JIS)

Enquiry sales@hv-caps.com

DHK3VA4101KB8B

10Kvac 500PF

WL (JIS)

Enquiry sales@hv-caps.com

DHK3VA4501KH8B

10Kvac 1000PF

WL (JIS)

Enquiry sales@hv-caps.com

DHK3VA4102KM8B
Hot Item:

ay HVCC Series Y6P HV Ceramic Capacitor by HVC Capacitor N470 Power Resistor Manufacturer ge Thick Film Resistor Alternative Replacement MOX95025004FVE Resistor Alternative Replacement mA 80ns r General Datasheet High Power Resistor Alternative Replacement High Power Resistor Alternative Replacement High Power Resistor Alternative Replacement High Power Resistor Alternative Replacement
Browse Other Products