Browse Other Products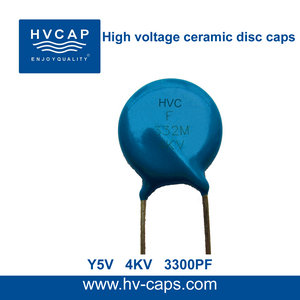 High Voltage Ceramic Disc Capacitor 4KV 3300PF
Manufacturer: HVC
Series: Ceramic Disc Type Capacitor
Capacitance: 3300pf (332M)
Voltage - Rated: 4KV
Tolerance: M---± 20 %
Mounting Type: Leaded,Through Hole
Operating Temperature: -25℃~+85℃ (Y5V(F))
Dielectric Strength: 150% of rated voltage (Y5V(F))
Dissipation Factor tanδ: 2% (Y5V(F))
Insulation Resistance: Min. 200 000 MΩ at 25 °C (Y5V(F))
Product Description: High Voltage Capacitor, Capacitor, Capacitors, hv capacitor, capasitor, voltage capacitor, capacitor high voltage, capacitors high voltage,
Application: CT Scanner, Dust collector, Dust Collection Systems, Electrostatic Generator, Electrostatic Machines, Static Electricity Generator

Ceramic Capacitor and inductor knowledge:
Inductance failure analysis
Inductor failure mode: overshoot, open circuit and short circuit of inductance and other performances
Failure mechanism of molded coil wound chip inductor:
The mechanical stress produced by the

1. core during machining is relatively large and has not been released.
2. Impurities or cavities in the core itself are not uniform, which affects the magnetic field of the core and makes the permeability of the core deviate.
3. sintering cracks due to sintering.
4. When copper wire and copper strip are welded by immersion welding, the coil part splashes tin liquid, which melts the insulating layer of enameled wire and causes short circuit.
5. the copper wire is slender. When it is connected with the copper strip, it causes false welding and open circuit failure.